Project Essentials
Client

UBC Properties Trust

Architect

Acton Ostry Architects & Hermann Kaufmann Architekten

Size

157,000 ft² (14,593 m²)

Sustainable Features

Targets LEED Gold
When the University of British Columbia proposed a 404-bed student residence tower built of wood, Fast + Epp was keen to lend our expertise to the project. We knew it could be constructed cost-competitively with a traditional concrete tower, in a fraction of the time.
Designed as a kit-of-parts, our solution comprised 17 storeys of five-ply cross-laminated timber floor panels, a concrete transfer slab on level two, and a steel framed roof. The cross-laminated timber panels were point-supported by glue-laminated timber columns, all resting on the concrete transfer slab, while two full-height concrete cores provided lateral stability. By utilizing the two-way spanning capabilities of cross-laminated timber, we were able to eliminate the beams of a classic post-and-beam system (along with labour-intensive connections), dramatically reducing costs and the time needed for fabrication and erection.
A key to the project's success was early coordination. A two-storey mockup and 3D modeling allowed the design team to discuss, test and streamline the process prior to site erection. The wood structure was completed less than 70 days after the prefabricated components arrived on site – four months faster than a typical project of this size.
Read more on the physical testing of the point-supported CLT panels.
When completed in 2017, Tallwood House was recognized as the tallest mass timber hybrid building in the world, reaching 53m.
Awards
BC Public Service

2018 Premier's Award

Association of Consulting Engineering Companies British Columbia

2018 Award of Excellence

Association of Consulting Engineering Companies British Columbia

2018 Lieutenant Governor's Award

Canadian Wood Council

2018 Wood Innovation Award

Canadian Wood Council

2018 Engineer Award

Council on Tall Buildings and Urban Habitat

2018 Innovation Award Finalist

Canadian Green Building Council

2018 Commercial/ Industrial [Small] Award

National Council of Structural Engineers Associations, USA

2017 Excellence in Structural Engineering Award

The Institution of Structural Engineers, UK

2017 Construction Innovation Award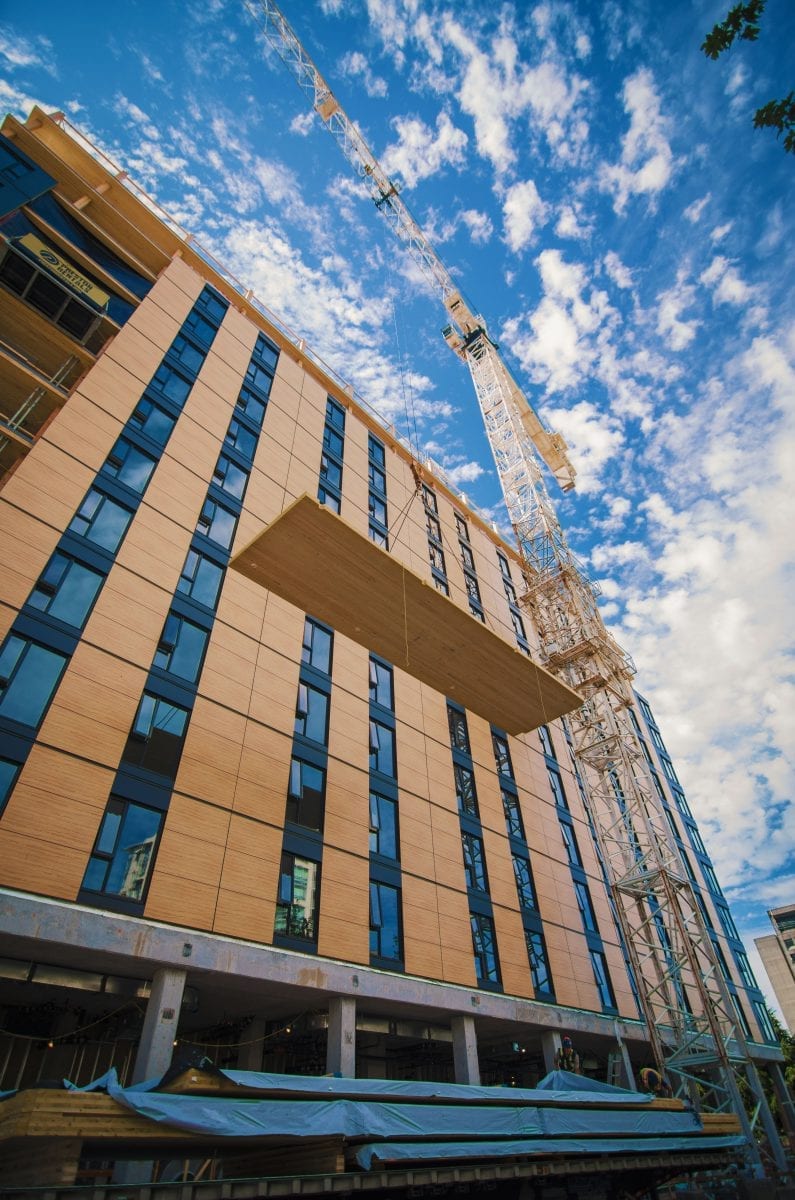 Watch the construction timelapse video below.